Chicago Pneumatic Impact Wrenches
Worldwide leading manufacturer of impact wrenches, CP designs tools to maximize productivity and improve operator comfort.
The use of the latest technologies and materials, such as composite housing or steel housing for the toughest materials, makes CP Industrial Impact Wrenches the best in each class. The versatile line features different clutches such as rocking dog, 2 jaw, pin, single dog or twin dog clutches. The range provides impact from 3/8" to 1-1/2" square drive sizes, and some models are available with a hexagonal quick-change chuck or a #5 spline drive.
The product line below is sorted in ascending order by the tools' maximum (reverse) torque ratings.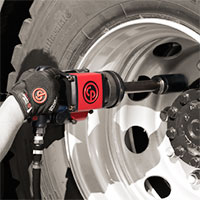 (1000 ft-lbs < τ ≤ 2000 ft-lbs)